ISO14001
Received the Certification of ISO14001 (1/15/02)
Our Idea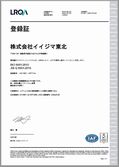 Iijima Co., Ltd Tohoku Branch symbiosis with regional community and contribute to build a recycling-based society through our business and recognize the importance of global environmental problems that we are facing right now while we put active effort on improvement and reducing damage to the environment.
Our Policy
After we received the certificate, we achieved a lot of our purpose and goals by passing through trial and error in in the early days. It is, however, important to keep putting effort on improvement including prevention of unexpected situations. We changed our environmental policy for the improvement and betterment of the environment this time.
(1) Continuous improvement of our system
We carry out environmental impact assessment regularly to put effort on continuous improvement of our system while we set ISO's basic attitude and the environment management system (EMS) as the fundamental for our business.
(2) Prevention of pollution
We endeavor to prevent pollution and press for improvement in quality of the environment by keeping in mind the effects of our business activity on the environment.
(3) Obey laws
We obey environmental laws that concern our business and requirements that other offices agree.
(4) Goal of the organization
We set our goal for operation management and/or compliance regulation depending on contents and achievements to sustain and improve indefinitely.
- Reduction of noise : We devote ourselves to provide better living including the labor environment by reducing noise.
- Improvement of air : We endeavor to improve including the labor environment by reducing more dust.
- Improvement of water quality : We contribute to the environment and local agriculture by improving water quality.
- Resources drain measures : We try to improve this by setting concrete targets that we can achieve.
- Symbiosis with regional community : Each of our employees have to volunteer at least one day per year.
(5) Education and Training
We offer the education and training needed to continuously improve by managing and improving the quality of the environment.
(6) Inform about our environmental policy
We release our environmental policy to all of our business offices and also want the public to understand and participate in our goals by opening our policy to the public on the webpage.
ISO9001
Received the certificate of ISO09001 (9/24/04)
Our idea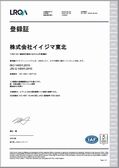 If the ISO14001 is duty to perform for an organization toward the society and the environment, we think ISO09001 is fundamental of an organization's sustenance and development by maintaining and guaranteeing our products' qualities and satisfying customers. We set our basic idea as contributing to the society through living together in mutual prosperity.
Quality Policy
As an recycling business organization that mainly deals with casting materials and steelmaking materials, we promise to endeavor to improve customers' satisfaction while we put importance on the (3) Goal of Quality especially by trying to provide products that meet customers' demands and devoting ourselves to put effort in these followings when we do our business.
(1) Quality Management System
We try to improve the system regularly and improve customers' satisfaction by using the quality management system (QMS) and maintain our quality, guarantee, and keeping up with customers' needs.
(2) Motto of Customer Respect
As an organization, we devote ourselves to respect customers and always try to do wholesome business with customers while obeying all laws, ordinances, regulations, and requirements.
(3) Goal of Quality
We try to improve customers' satisfaction by working towards no returns and no complaints and setting a target to fulfil this goal. In addition, we reexamine our goal depending on the change of customer demands and we try to accomplish this goal. Also we promise that each of us do our given duty to fulfill the goal of quality.
(4) Secure Resources
We secure resources when it is needed for keeping validity of Quality Management System and continuity.
(5) Education and Training
We provide the opportunity of education and training needed for continuous improvement of Quality Management System and improvement of customer's satisfaction to all employees in order to improve comprehension and quality.